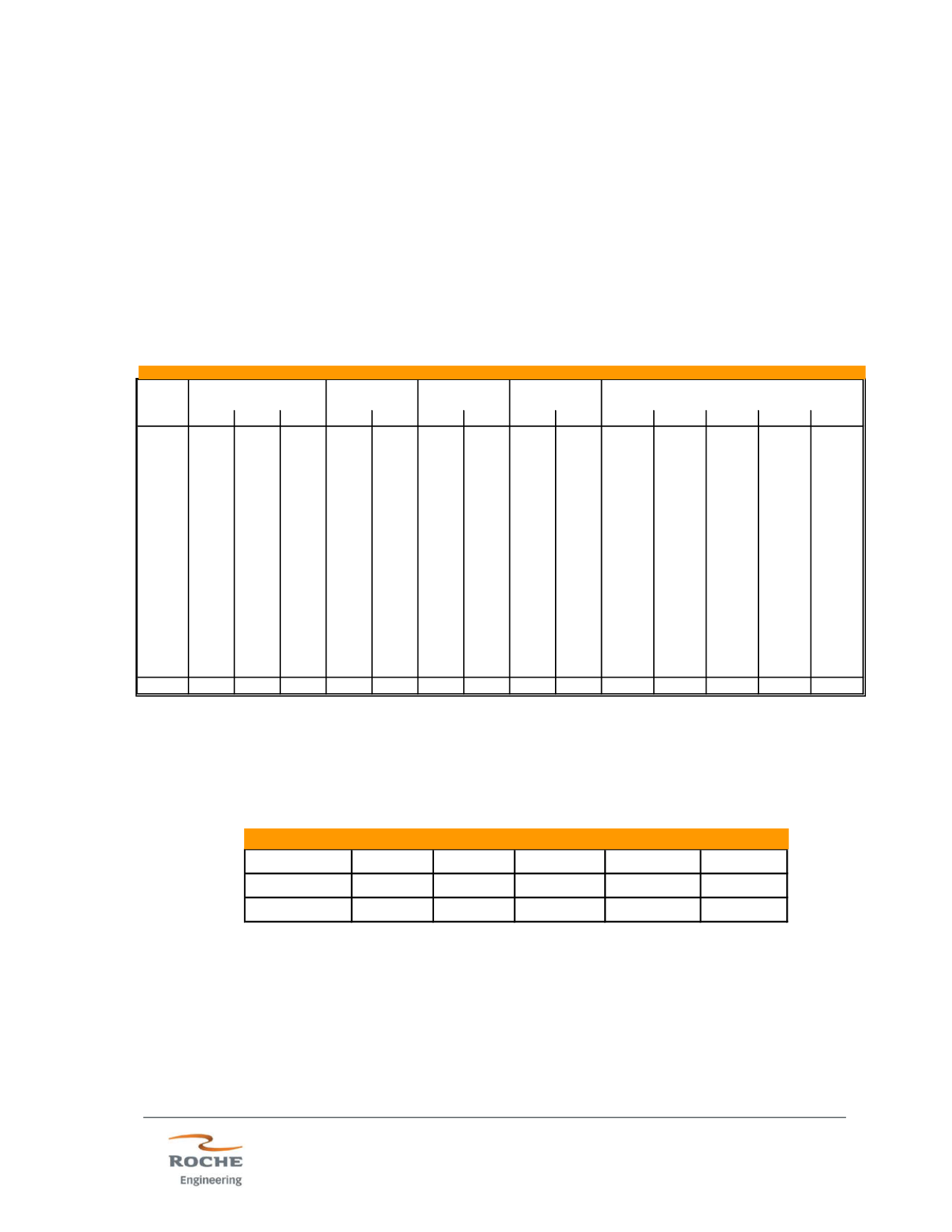 Canadian NI 43-101 Technical Report
Total kg % Solids Filtrate kg Filtrate SG Filtrate HCl
37.9 1.087 8.5% 2.20 7.0% 6.60 16.4% 13.6 0.2% 12.9 7.5% 11.9 1.233 6.3%
7.40 16.1% 14.5 3.5% 13.7 4.8% 13.0 1.259 11.7%
40.5 1.091 8.6% 4.60 9.3% 6.40 18.6% 15.6 2.7% 12.7 3.6% 12.2 1.091 11.9%
47.2 1.071 7.7% 9.52 10.6%
23.9 0.9% 11.2 3.2% 10.9 1.213 12.4%
40.1 1.076 8.1% 6.70 3.3% 1.86 17.5% 17.1 0.3% 12.2 7.9% 11.3 1.188 12.1%
50.8 1.077 8.2% 4.26 5.5% 4.21 17.7% 27.6 1.7% 13.2 11.2% 11.7 1.225 12.1%
50.0 1.072 7.0% 5.14 6.3% 4.12 17.3% 28.6 0.9% 12.3 12.1% 10.8 1.229 8.9%
56.4 1.049 4.0% 9.12 7.9%
33.3 0.4% 12.8 1.8% 12.6 1.199 11.5%
10 58.2 1.058 5.2% 7.30 5.3% 1.92 15.8% 34.2 0.6% 12.7 5.3% 12.0 1.233 8.0%
11 48.4 1.076 6.6% 5.46 6.5% 2.12 16.8% 26.5 0.8% 13.3 7.1% 12.4 1.243 11.8%
12 53.2 1.072 6.7% 6.29 6.6% 3.11 18.0% 28.8 0.4% 12.9 9.7% 11.6 1.226 11.9%
13 51.3 1.066 6.6% 6.23 5.3% 2.64 16.6% 29.1 0.4% 12.5 8.1% 11.5 1.224 12.5%
14 44.1 1.056 5.7% 5.30 2.5%
25.3 0.0% 12.4 7.8% 11.4 1.157 12.5%
15 53.0 1.072 6.7% 6.80 4.8% 2.80 16.2% 28.3 1.8% 13.4 10.8% 11.9 1.228 12.5%
16 50.6 1.092 6.4% 4.80 6.4% 4.40 16.0% 26.4 0.6% 13.0 8.2% 11.9 1.272 10.4%
17 44.4 1.076 5.6% 7.40 4.4% 1.10 16.3% 23.1 0.1% 9.9 6.4% 9.3 1.257 11.3%
765 1.074 6.8% 91.1 6.2% 48.7 16.9% 396 0.9% 201 7.3% 186 1.217 11.1%
Acid collected Acid collected Water collected
(pre-azeotropic) (Azeotropic)
PL Feed ID COMP B COMP C COMP A COMP E COMP D
acid is recovered. Each distillation cycle operated for 16 hrs. from start-up to
Azeotropic point. From each cycle, the mass of oxalic acid crystallized is recorded.
Distillate acid streams collected during the pre-azeotropic and azeotropic periods of
operation were collected separately. Although ideal azeotropic conditions would be
marked by distillate acid strengths of 17%, for the purposes of this table, distillate acid
over 15% was considered azeotropic. Cycles 4, 9 and 14 did not reach the azeotropic
state (15% HCl) and thus have no azeotropic acid data.
(SGS Lakefield, Canada, 2014)
The barren PLS from each hydromet pilot campaign was fed continuously to the
distillation column for 16 hours to recover water, HCl acid and oxalic acid crystals
(solids), The column operated under azeotropic conditions successfully generating a
>16%HCl stream and water stream (< 0.9%HCl). The filtrate contained some acid
which should be recovered by recycling some filtrates. Ultimately, the filtrate is
neutralized to produce base metal hydroxides and Calcium chloride ( a resource of
Table 13.24 - Number of Cycles Operated per Composite sample
Table 13.23 - Distillation column performance