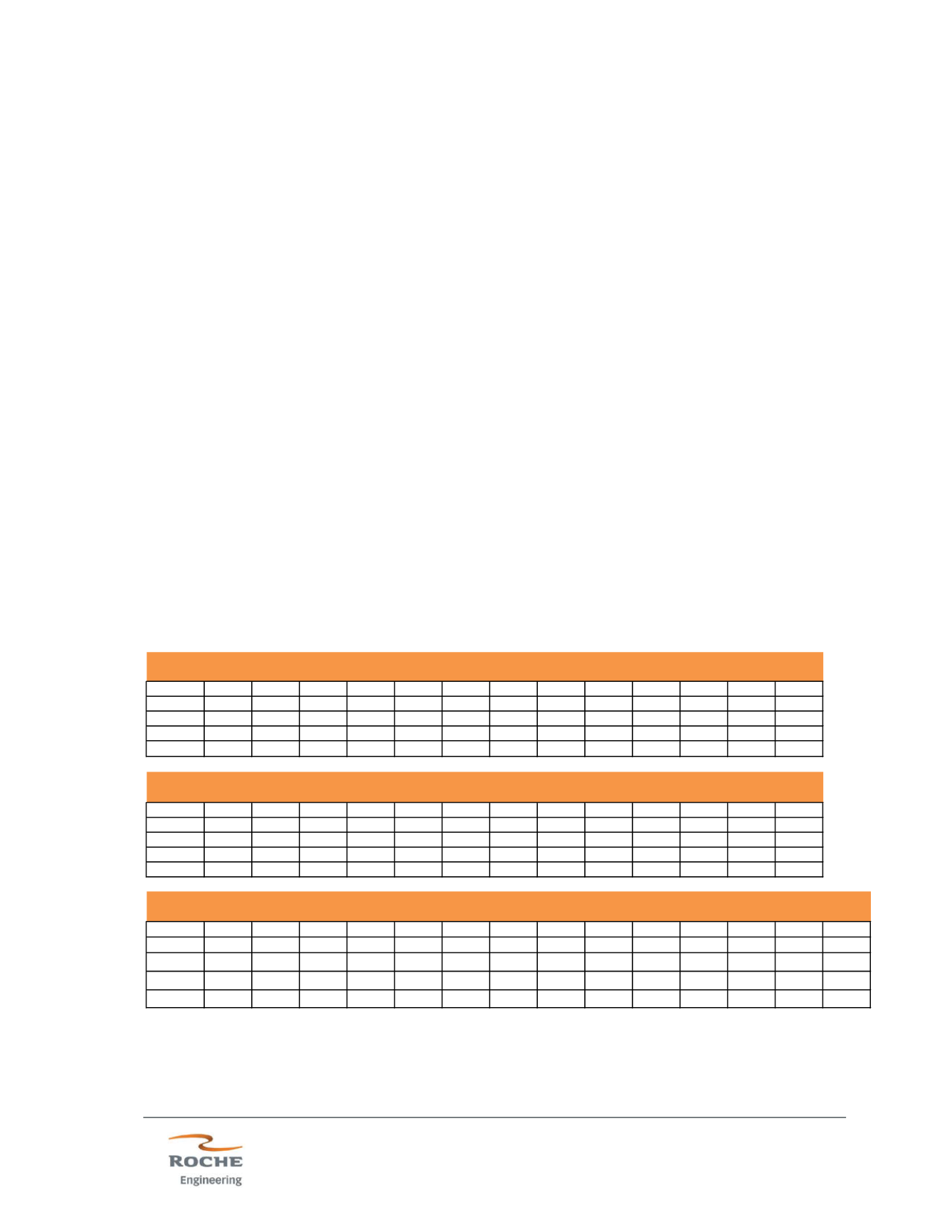 Canadian NI 43-101 Technical Report
REE precipitation averaged 97% throughout the test campaign. The highest average
co-precipitations were thorium and calcium at 100% and 35%. Overall precipitation
efficiencies of critical REE were 99% Dy, 99% Eu, 98% Nd, 99% Pr, 99% Tb and 93%
The average oxalic acid dosage was 102 g/L, but actual fresh oxalic acid
consumption was 55.1 g/L equivalent to 189 kg/t concentrate. Based on reactor
profile sampling, a total retention time of 1.14 hours would be sufficient to precipitate
At the start of the precipitation campaign, calcium contamination in the rare earth
oxalate solids was around 15.2% but decreased steadily throughout the test period.
By the end of the campaign, the RE oxalate cakes contained 1.25% Ca, 45.9%
TREE, 25.5% oxalate and 3270 g/t Th, with traces of base metals (< 0.1%) confirming
the selective nature of the process.
Leach efficiency was found to vary by ore type. Table 13.19 presents the steady
state pilot plant leach efficiency results for various ore composites.
Table 13.19 - Leach Efficiency Results for Various Ore Composites,
Low Temperature Counter Current Leach
45% 276 382 97% 85% 97% 96% 95% 94% 93% 93% 89% 87%
C 41% 187 293 88% 86% 87% 87% 87% 88% 87% 86% 84% 82%
34% 159 232 94% 74% 93% 93% 91% 91% 90% 88% 86% 83%
17% 307 509 95% 83% 95% 95% 94% 94% 94% 91% 89% 87%
D 54% 351 473 89% 87% 89% 89% 88% 88% 87% 85% 82% 80%
% % % % % % % % % % % % % %
86% 84% 83% 79% 72% 11% 82% 67% 11% 27% 10% 28% 99% 44%
81% 79% 78% 75% 70% 11% 55% 60% 12% 30% 16% 84% 99% 21%
82% 79% 74% 74% 54% 4% 68% 62% 6% 19% 5% 77% 99% 26%
83% 83% 78% 75% 66% 7% 73% 67% 12% 30% 7% 50% 96% 22%
78% 77% 75% 74% 70% 15% 55% 61% 14% 15% 7% 38% 98% 21%
% % % % % % % % % % % % % % %
8% 84% 85% 52% 18% 83% 86% 0% 78% 10% 56% 55% 92% 92% 90%
9% 72% 55% 19% 22% 77% 62% 1% 91% 7% 39% 45% 87% 87% 85%
6% 76% 71% 27% 18% 80% 72% 0% 62% 6% 50% 37% 85% 85% 87%
10% 81% 81% 27% 31% 79% 77% 1% 64% 5% 47% 40% 90% 90% 90%
11% 82% 69% 16% 20% 70% 77% 0% 92% 4% 31% 45% 88% 88% 84%