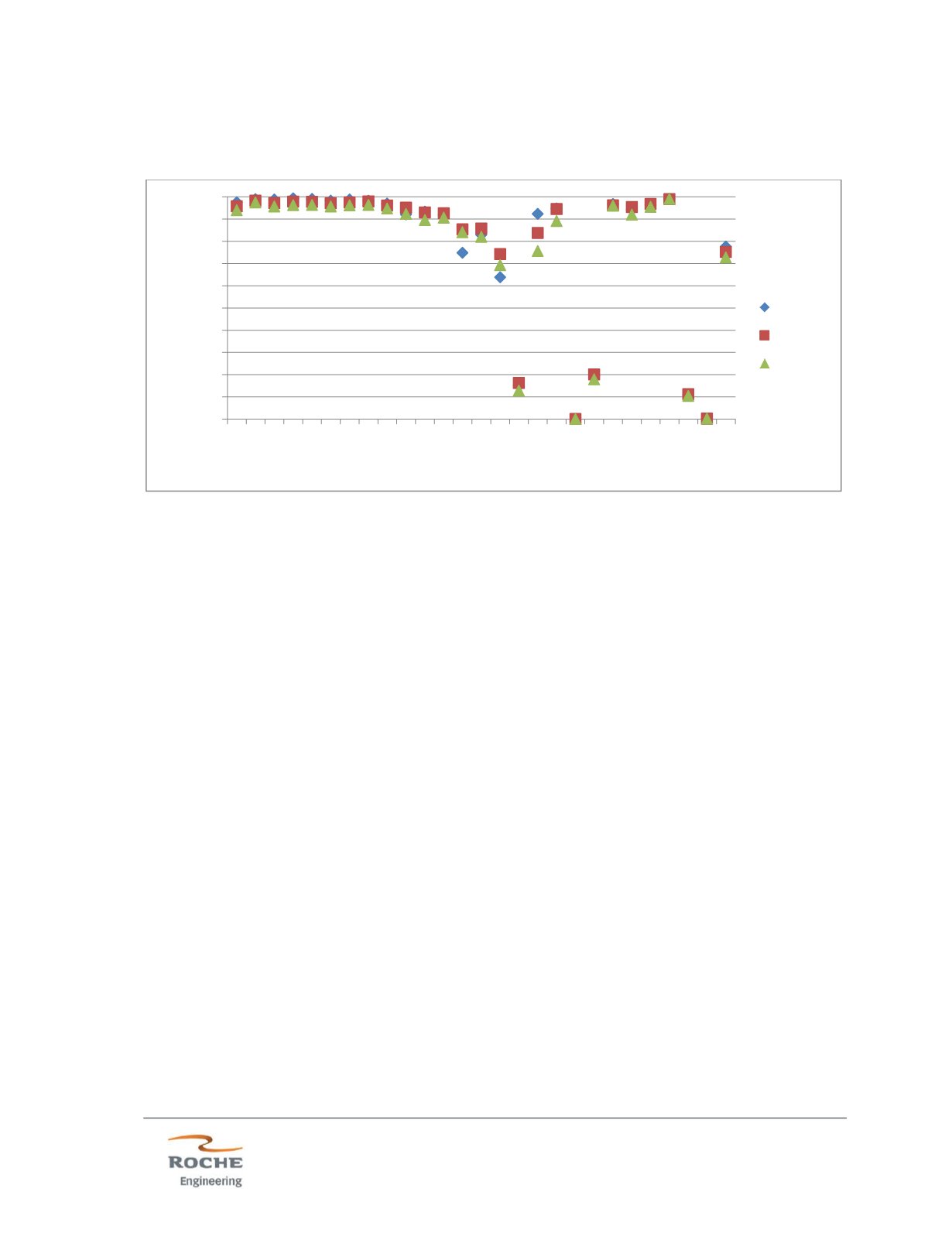 Canadian NI 43-101 Technical Report
Figure 13.8 - Rare Earth Extraction vs Acid Dosage (kg/t)
As can be seen in Figure 13.8, hydrochloric acid dosage rate ranged between 880 to
680 kg/t. Based on acid dosage rates in this range, it was found that the acid
consumption was unacceptably high.
Alternatives were investigated to reduce
reagent cost. Figure 13.8 illustrates that the extraction efficiency in general increased
with higher acid dosing rates. However, there is minimal loss in extraction efficiency
when the acid dosage is reduced.
The second testing campaign focused on counter current leaching. As expected, this
change reduced reagent consumption because the counter current leaching utilizes
hydrochloric acid more efficiently than co-current leaching with no loss of REO
extraction. The hydrochloric acid dosage rate was reduced to 669 kg/t.
costs were reduced and project economics were improved.
Additional economic optimization was evaluated in the final testing campaign which
examined leaching the REO at a lower temperature. Figure 13.9 illustrates the rare
earth extraction as a function of temperature. As can be seen, higher temperature
provides a higher level of REO extraction. While this condition could be used to
maximize REO recovery, it was also found to leach high levels of iron. Iron ions
combine with chloride ions resulting in the loss of chloride ion, high acid consumption
and unacceptably high reagent cost. Chloride ions that combine with rare earths are
recovered later in the process and returned to the leach. All pilot testing used
La Pr Sm Gd Dy Y Tm Lu Th Si
PERCENT EXTRACTION
ELEMENTS