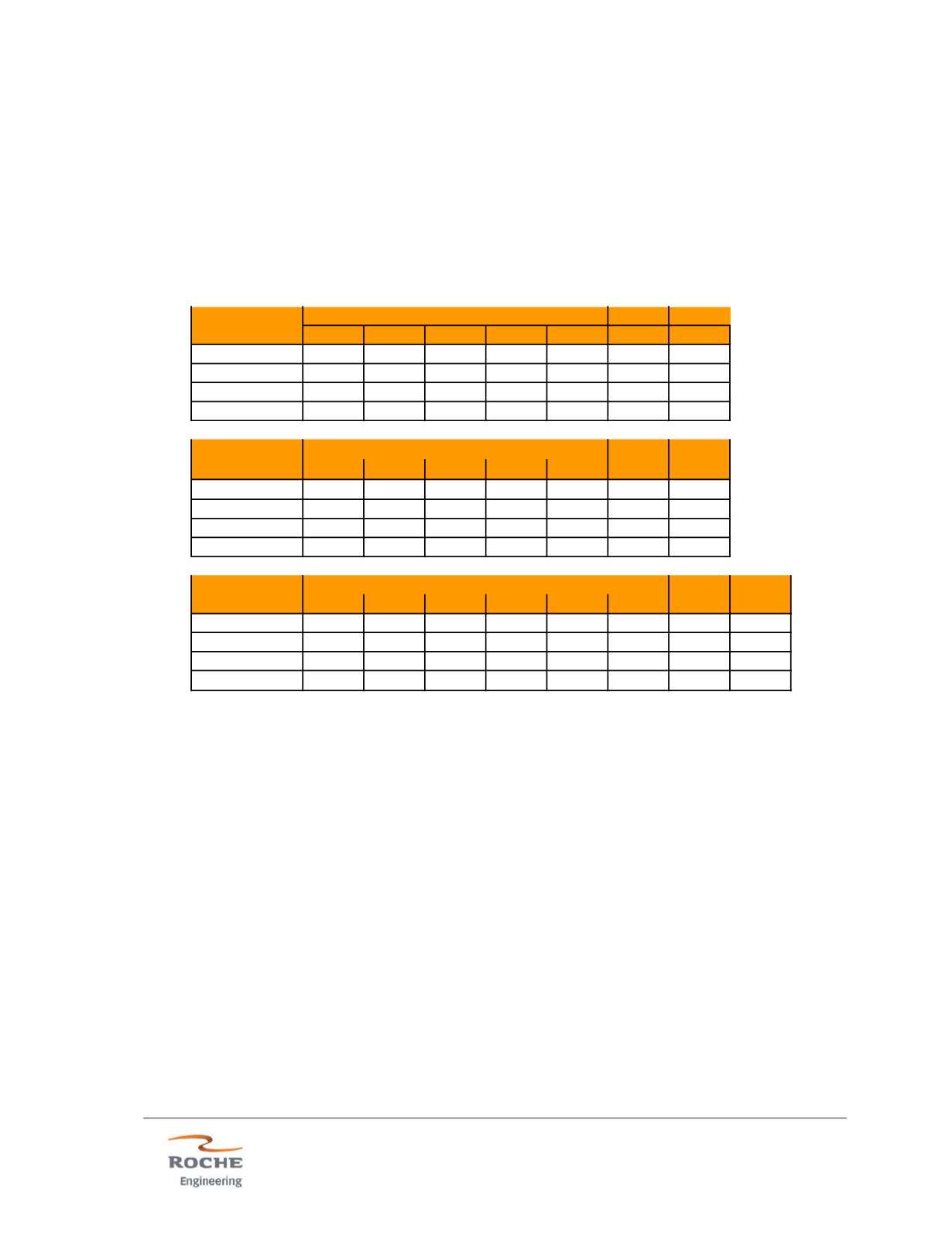 Canadian NI 43-101 Technical Report
A fourth composite, Composite 4 was also submitted to pilot-scale testing. This was a
high-grade composite, which did not require any beneficiation processes beyond
coarse screening. After scalping out the plus 3" material, only crushing and
screening to produce a -48 mesh product is required. The pilot-scale results are
summarised in Table 13.16.
Table 13.16 - PUG Composites – Pilot Scale Results Summary
13.6.5 Material Handling Testing
Jenike and Johanson (J&J) performed material handling testing at their laboratory in
Canada to determine the flow characteristics of pre-concentrates in storage facilities.
Most of the tests showed that less than 15% pre-concentrate moisture is required for
the material to be stored in silos. At moistures above 15% it will be cemented and fail
to flow. J&J tests are focused on mechanical engineering and construction of storage
bins for mineral concentrates and fine ore.
SGS performed belt filter filtration tests using pre-concentrate pulp and could not
achieve less than 15% moisture in the final filter cake. J&J tested the initial pre-
concentrate cakes (22-25% moisture) from SGS. All samples failed the flow
characteristics tests indicating that if the slurry is filtered using a belt filter, we cannot
store the resulting filter cake in bins. Subsequent filtration tests on PP1-PP3 pre-
Comp Reconciled Feed Grade, % or g/t
SiO2 AI2O3 Fe2O3 TREO1 CREO2
Comp 1A
Comp 2
Comp 3
Comp 4
Comp Reconciled Conc Grade, % or g/t
SiO2 AI2O3 Fe2O3 TREO1 CREO2
Comp 1A
Comp 2
Comp 3
Comp 4
Comp Reconciled Conc Recovery, % or g/t
SiO2 AI2O3 Fe2O3 TREO1 CREO2
Comp 1A
Comp 2
Comp 3
Comp 4
1
TREO represents total rare earth oxides and includes Y
2
O
3
2
CREO represents the following rare earth oxides, as specified by RER: Pr
2
O
3
, Nd
2
O
3
, Dy
2
O
3
, Eu
2
O
3
, Tb
2
O
3
and Y
2
O
3