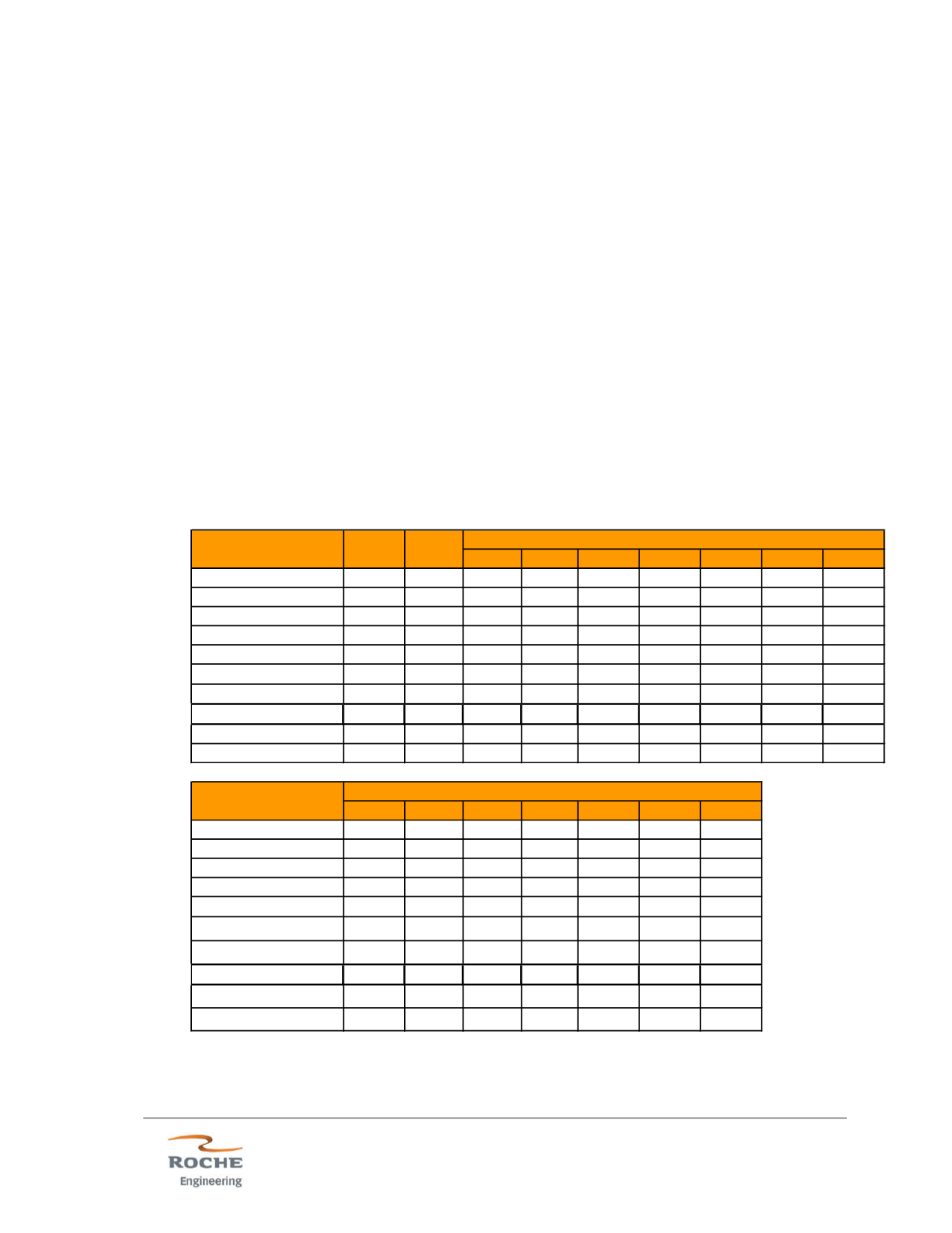 Canadian NI 43-101 Technical Report
13.6.3 Pilot PUG Test on COMP 2
The flowsheet for Comp 2 is a mirror image of Comp 1A except for different
scavenger units. This flowsheet is illustrated in Figure 13.6. In this flowsheet, a
suitable secondary gravity separator that is coupled to the primary gravity separator
will serve as a scavenger.
Table 13.14 presents the recovery data for each of the streams in the flowsheet. For
Comp 2, total REO recovery was 87.2 % to 74.3 % of total feed mass. However, if the
primary gravity tails are recovered as part of the concentrate, overall recovery is
increased to 94.2% to 81.9% of total mass. For Comp 1, Bull Hill high-grade OxCa
ore, the mass pull was found to be too high to achieve an acceptable upgrade factor.
In the PFS, BH high-grade OxCa ore is screened at 3-inch cut-off size in years 1-9
and the minus 3-inch material is processed without gravity or magnetic separators. In
subsequent years, low-grade BH oxide ore will be subjected to this flowsheet after
Table 13.14 - Comp 2: PUG Concentrates and Tailings
Streams
Wt. (%) K80 (µm) Reconciled Grade , % or g/t
SiO2 AI2O3 Fe2O3 TREO1 CREO2
U
Th
100.0 1,829 28.1 8.13 11.2
Secondary 150mesh U/S 32.0
Final PUG Conc
74.3
-
24.1 6.88 13.0
6.64
1.44
67
606
Streams Reconciled Distribution, % or g/t
SiO2 AI2O3 Fe2O3 TREO1 CREO2
U
Th
Secondary 150mesh U/S 31.4 31.0 31.9 29.5 29.7
Final PUG Conc
63.5 62.8 86.4 87.2 86.5
83.3
85.8
1
TREO represents total rare earth oxides and includes Y
2
O
3
2
CREO represents the following rare earth oxides, as specified by RER: Pr
2
O
3
, Nd
2
O
3
, Dy
2
O
3
, Eu
2
O
3
, Tb
2
O
3
and Y
2
O
3