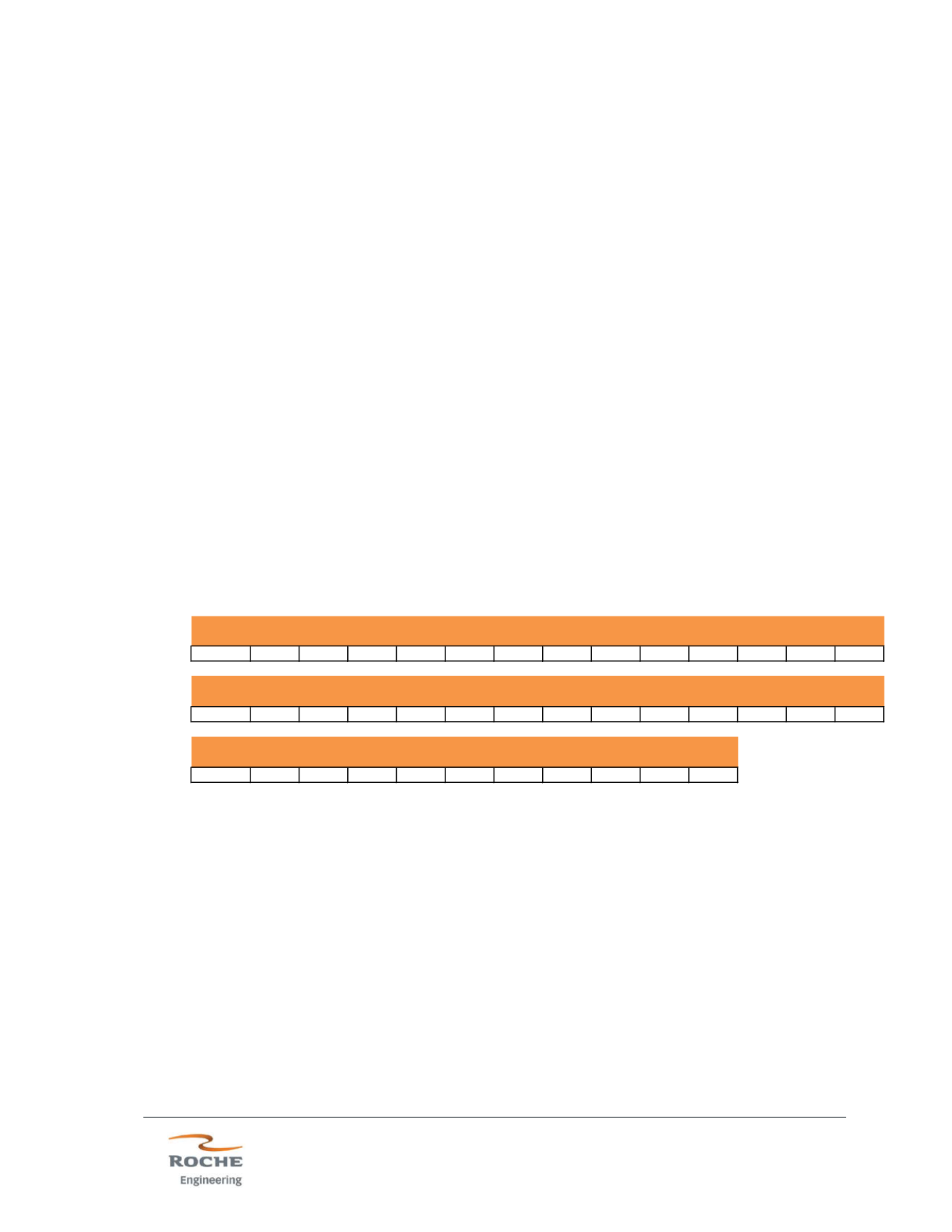 Canadian NI 43-101 Technical Report
general, oxalic acid consumption ranged from 296 kg/t in PP5 (COMP B) to 121 kg/t
in PP6 (COMP C). When RE oxalates are not recycled, high losses of REEs may
The precipitation by element is presented in Table 13.22. Average acid consumption
was equivalent to 2.91 t/t concentrate. After precipitation, the precipitate is filtered
from solution and the solution is allowed to cool in a thickener where excess oxalic
acid is precipitated, settled out of solution and recycled to the beginning of the
precipitation circuit. Additional REE is captured in this recycle making the
precipitation efficiency close to 100% for most REE metals. Because excess oxalic
acid is recycled, a significant excess can be used in precipitation to insure a high
precipitation percentage of REE. A total retention time of 4 hours was sufficient to
precipitate the REE from the PLS for all ore types. Average thorium levels are from
0.5% to 2.0%, while uranium levels were below 35 g/t. Base metals are mostly below
detection limit, which indicates that high selectivity oxalic acid was successful against
most base metals. Note that the ore type has no impact on precipitation efficiency.
Table 13.22 - Precipitation with Oxalic Acid
Consumption of oxalic acid can vary greatly depending on the composition of the
PLS. Aluminium and iron increase oxalic acid consumption by forming aluminum
oxalate and iron oxalate that are eventually sent to tailings. The low temperature
leach minimizes the leaching of iron which reduces oxalic acid consumption.
Figure 13.15 shows the precipitation pilot plant unit that was used for testing in 2013.
% % % % % % % % % % % % % %
98% 100% 100% 100% 100% 100% 100% 99% 100% 99% 100% 99% 93% 99%
% % % % % % % % % % % % % %
93% 92% 100% 4% 3% 43% 15% 1% 45% 0% 10% 0% 0% 29%
1% 1% 42% 14% 7% 14% 4% 0% 99% 99% 100%